Fundraising with Thunder
We started Thunder with the mission of helping founders and investors connect and we are thrilled to be democratizing access to capital for founders. At Thunder, we use AI to identify who is most likely to invest in whom within our network and make warm intros on behalf of founders to VCs. Below is an introduction to our process to help you get the most out of Thunder.
1. Create a Profile
We try to keep our process simple and focus on making the right matches. The process first starts by creating an account and completing your profile.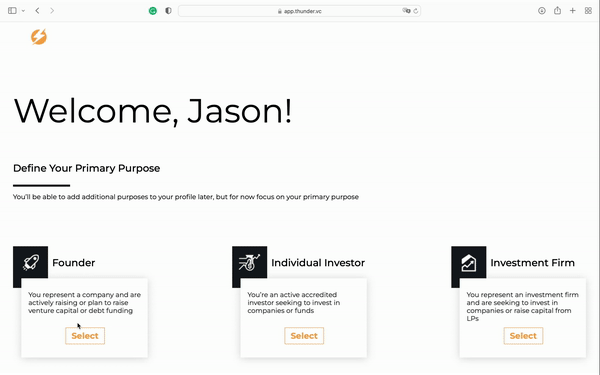 The more information you provide, the higher the quality of matches we'll be able to get you. Be sure to fill in crucial information, including your company's sector, location, funding round ask, amount raised to date, and any tractions you have so far.
If you have previous exits or if your company participated in any notable accelerators, tell us about it! Your profile is here to showcase your company to investors, and it's ok to show off.
Tips: If you identify with any minority groups, let us know too! Some VCs invest in niche groups, and we want to match you!
2. Submit Profile for Review
Once you have completed your profile, submit your profile to be reviewed, and a member of the Thunder team will review your profile. You control when you want your profile to be reviewed. You can use the Founder Checklist we prepared for you on the left to make sure your profile is completed and you have a pitch deck uploaded.
Each month, only the best companies will be handpicked by our AI and team of experts to move forward. Your potential matches can only be unlocked after your profile has been approved by a team member of Thunder.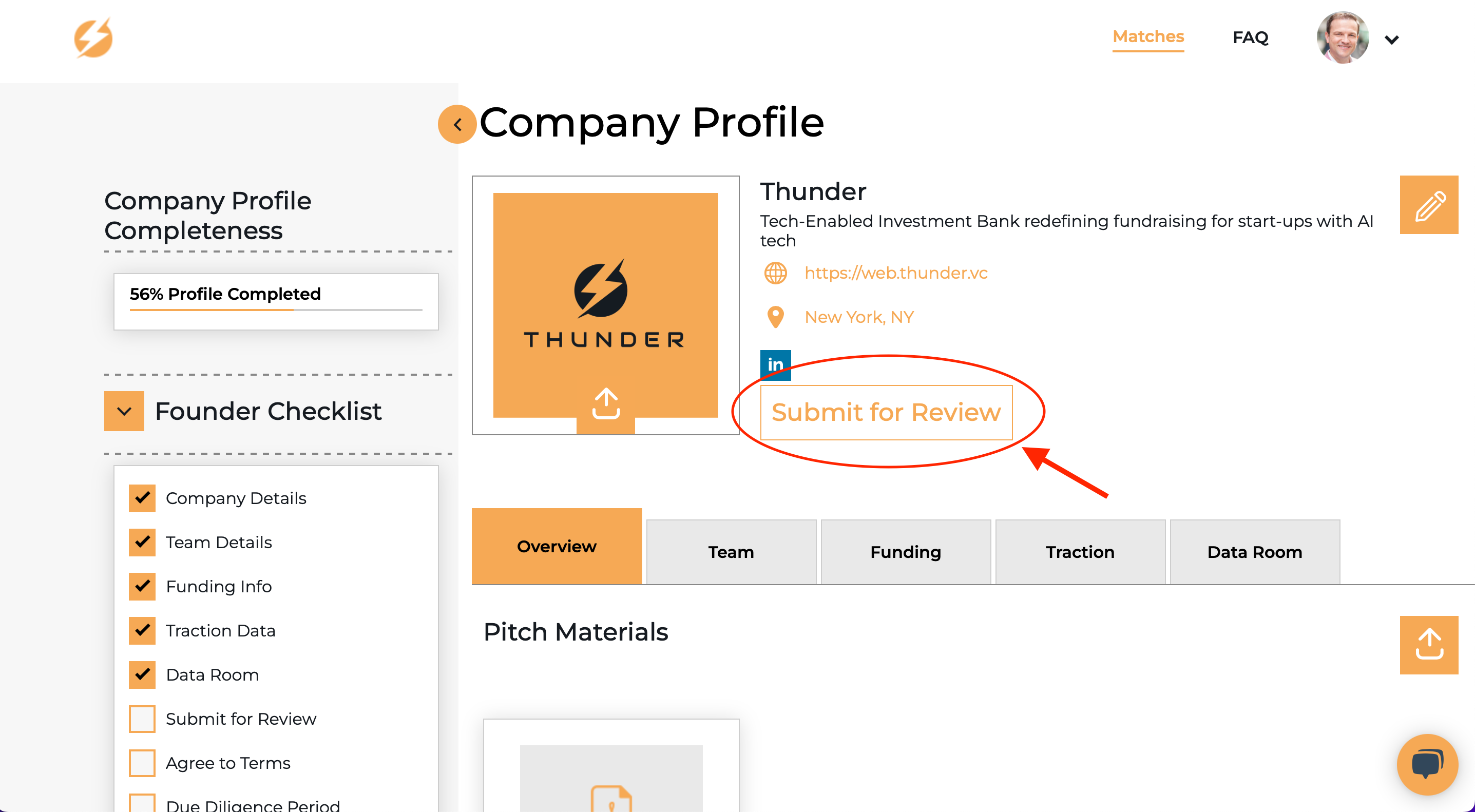 3. Unlock Your Top 3 Matches
If your company is approved and published to the network, you'll have access to your top 3 matches to gauge the quality of our AI recommendation engine. If you feel the matches are off, please review your profile to make sure you've accurately represented your company.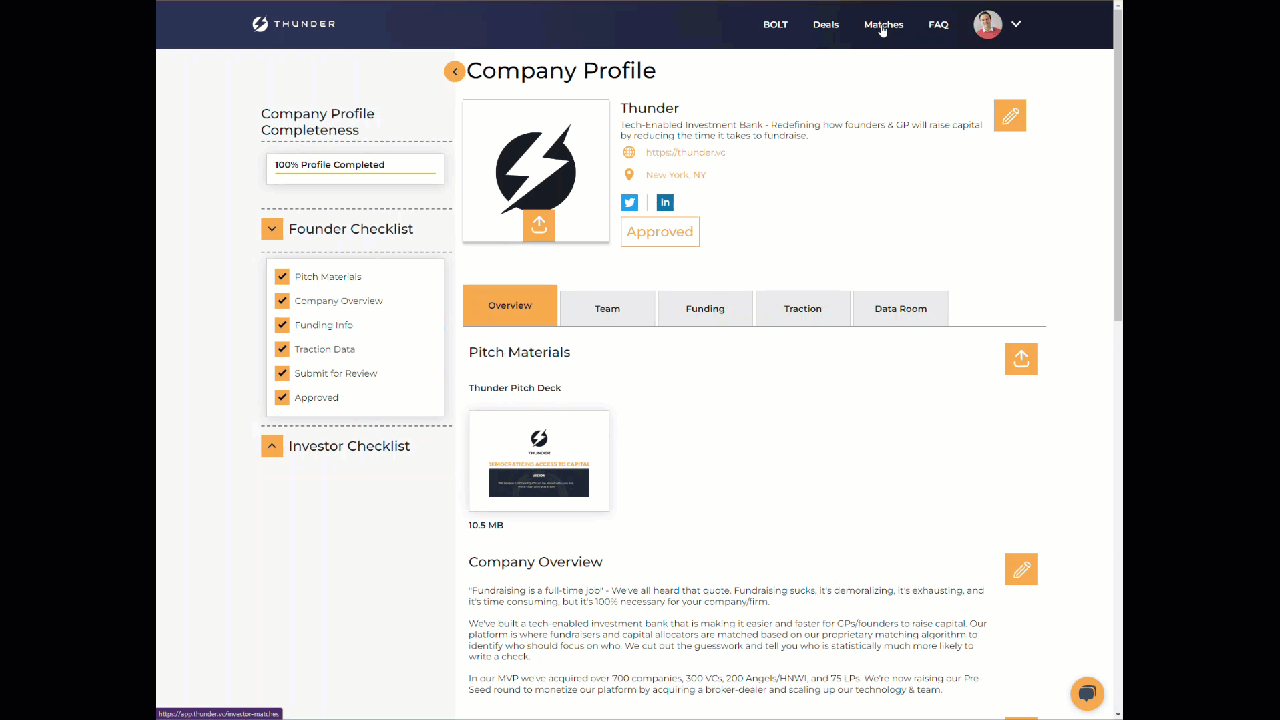 4. Upgrade to Premium
To unlock all your matches, you can upgrade to Premium Access. This will enable you to review all your matches and contact them directly through Thunder, leveraging Thunder as a warm intro that converts 10x better than sending a cold email. You'll work closely with a fundraising expert in a 1-on-1 coaching session to ensure your profile and pitch deck are fully optimized to maximize your potential success in meeting with investors.
5. Investor Outreach
A Thunder team member will work with you to review the recommended matches with you to provide any context of existing relationships or engagements. These results will be generated by Thunder's AI and presented within your dashboard on the platform.
Use Thunder to reach out to investors personally, confirming their interest in your company. If an investor agrees to match with you, you'll be introduced over email. You'll be able to track your progress and VC responses using Thunder's Match CRM.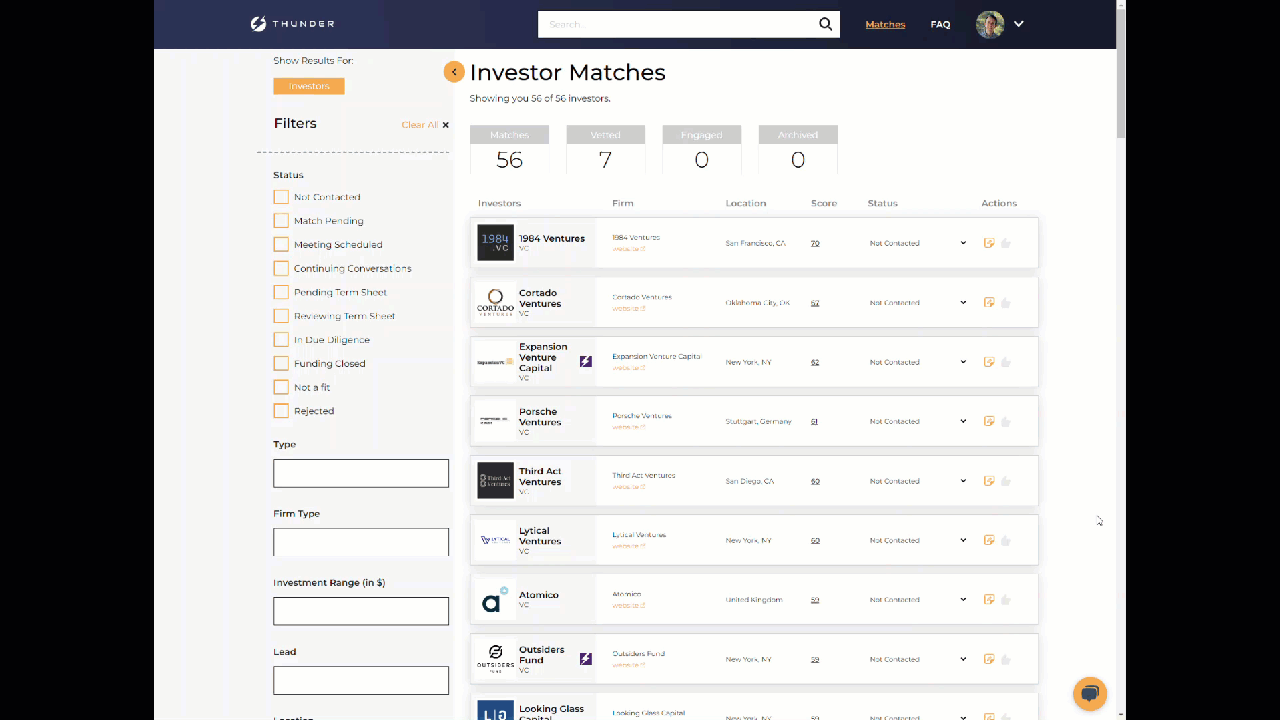 6. Follow Up with VCs Through Other Channels
You'll have access to VCs websites, LinkedIn, Twitter, and more when you unlock Premium Access. This allows you to leverage Thunder's warm intro request, but also reach out through other channels to improve the chances of landing a meeting.
7. Fee Structure
Premium Access is an annual fee of $500. This price is anticipated to increase, so be sure to lock in this rate before we increase prices soon.
Have a question? Don't hesitate to reach out to help@thunder.vc